How do I Access the Self-Service Site?
Your administrator may provide the URL for the Self-Service site directly to you through an email invitation or as a link from their benefits site.
You may also access the self-service site by doing the following.
Open a web browser and go to www.commonbenefits.com.

Start entering your Company's name into the search bar and select it from the list that displays.

The login screen for self-service will then load.
I am a new user to the self-service site
First time users to the self-service site will need to create an account.
Enter the requested information to verify your identity.
Invitation Code
An invitation code may also have been emailed to you. This code will verify your identity without having to enter in the requested information. Click I have an invitation code to enter the code.
Your Company will notify you ahead of time if invitation codes are being used. Not all Companies will use this option.
Click Submit to proceed to the next screen.

Enter in a Question and Answer for the requested Security Challenge Questions . You may enter any Question/Answer you want.
A minimum of two security questions will need to be setup. Click Add another security question to add additional security questions.
Click Create Account to complete the account setup.
I am a returning user and I know my user name and password
Enter the user name and password that you previously setup for the self-service site and then click Login .
I am a returning user but I don't remember my password
You may reset your self-service password by doing the following.
Click Retrieve username or password from the self-service login page.

Enter in your Username and click Reset Password .
An email with your self-service password will then be sent to the email address that is saved on your self-service account.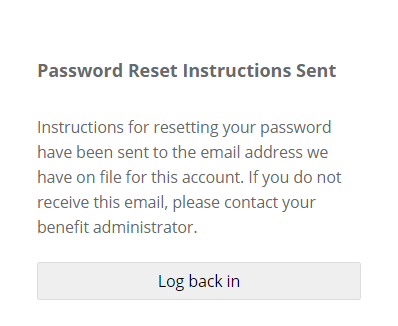 What if I don't receive a password reset email?
If you do not receive an email with your password or if you do not have an email address, please contact your Benefit Administrator who can reset your password.
I am a returning user but I don't remember my username
Please contact your Benefit Administrator to provide you with your username.