The steps below provide an overview of the interview status that is assigned during an employee interview on Common Benefits.
Overview
The interview status is assigned by a User on the last screen of an employee interview and is used to categorize and track the interview.
The interview status also controls whether an interview confirmation form will be generated.
The interview status selected does not impact any benefits elections or updates to personal information made during the interview.
The interview status is reset back to not seen each time an enrollment session is opened.
Self Service enrollments do not use interview status.
Interview Statuses
There are 6 different statuses that can be assigned to an employee interview. There is also a default status of Not Seen which is assigned to all records when a new enrollment session is opened.
| Name | Interview Confirmation form Generated |
| --- | --- |
| With Changes | Yes |
| No Changes | Yes |
| HR Administration | No |
| Interrupted | No |
| Undecided | No |
| Underwriting Approval Pending | No |
| Not Seen | N/A (default status assigned when an Enrollment Session is opened) |
The Interview Status can be used to Track Employee Records
The interview status assigned during an employee interview can be used to keep track of employee records and help categorize them based on the status assigned.
The records on the Employees screen can be filtered by selecting one of the interview statuses from the Status field when the Company is in Enrollment Mode.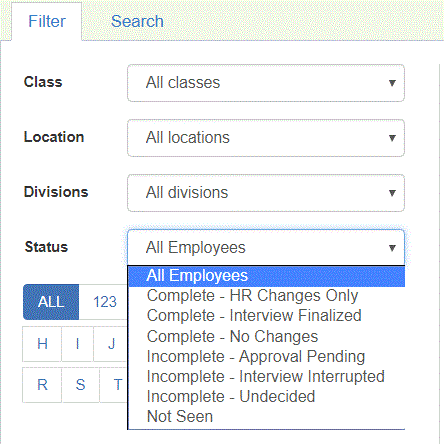 ##Date reporting
The Interview Status can also be included as a field on export files generated from Common Benefits.
Interview Confirmation Forms
The Complete - With changes and Complete - No changes interview statuses will generate an interview Confirmation form.
The interview confirmation form provides a PDF summary of the benefit elections made during the employee interview. This statement is only created at time of employee interview based on the interview status selected.
The other four interview statuses will not generate an interview confirmation form.
Note: The option to include an interview confirmation must first be enabled on the case configuration and not all enrollments may use this option.