Overview
An optional confirmation form may be used for self-service benefit enrollment. This form is enabled by a benefit administrator and offers the following advantages:
This will provide a record for the individual of their benefit elections and includes the modal deduction amount for each enrolled coverage. An electronic signature with date and time stamp is also captured.

A new confirmation form is created each time the individual enrolls or makes a change to their elections and then proceeds to the confirmation screen.

Declinations are also included on the confirmation form, so the individual is aware of coverages that they waived.

The Individual may save or print a pdf version of the confirmation form during enrollment or at any time afterward.

The benefit administrator also has access to the individual's confirmation form from Common Benefits.
Note: If a confirmation form is not used, then the employee will see a summary screen instead of the confirmation screen. The employee may print a summary statement of their elections, but the deduction amount will not display until the self-service change request has been approved by an administrator.
How to enable confirmation forms for use on self-service:
From the company Home screen, click Self Service and then Enrollment Session Configuration.

The setting to use confirmation forms will be listed below the list of active enrollment sessions.

Click Configure and then check the box to Use Interview Confirmation. Select a confirmation type and consent type.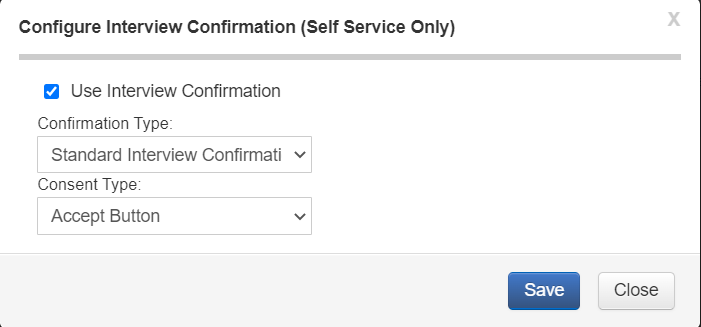 Click Save
Note: The Confirmation form will only be created if the individual is in wizard mode during their self-service enrollment. Please make sure to enable Continuous Session within the enrollment session settings. This will leave the individual in wizard mode for the duration of the enrollment session regardless of whether they clicked Finish & Submit on the last screen of self-service enrollment.